Diversity and Inclusion publication coming soon!
Watch this space!
on 25 March 2019
We are delighted to announce that we have joined forces with Globe Law and Business on a Special Report addressing Diversity and Inclusion in the legal world, both in-house and in private practice.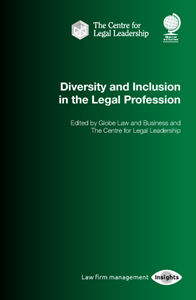 In this report our authors, who have first-hand insight and specialist knowledge, explore disability; trans-inclusion; social mobility; ethnicity and female gender.
To mark the Report's publication we will be holding a special launch event at which you can hear and meet all the authors.
This will take place in the Summer, with a confirmed date to be announced. If you would be interested in attending this exciting event, please register your interest here.

If you would be like to order a copy of the Report then simply click here. To receive a special pre-publication discount use this code 'CLLGLB'.